The FREE PetRescue.be App
Available on the App store and on Google Play!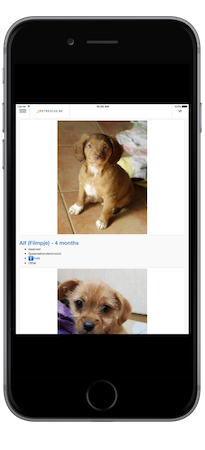 NEW NOTIFICATIONS
The PetRescue App shows you the new pets that correspond to your criteria, the second that they get posted on this site. Be the first to meet your potential adoption friend and to react.
FINE TUNE
Receive messages only for those pets that you selected in your settings page. Limit the list to the type of pet, as well as the gender, age or compatibility criteria.
SHOW LATEST
Even if there are currently no new pets that match your criteria, you'll still get to see the latest pets that you previously viewed.